Interstate Glass is proud to be a certified dealer of Polar Seal Windows.
Making and installing energy efficient replacement windows in Michigan since 1950.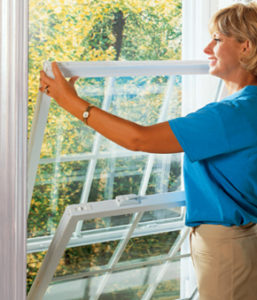 We know how to keep the beauty in and the drafts out.
Too many window companies cut corners in the manufacturing of your windows. We know, because we replace those windows every day. Our commitment to producing the highest quality vinyl windows and doors is second to none. In fact, we build all of our products to last a lifetime.
We use a specific Low-E glass designed to reduce your heating costs better than any other Low-E. It's also designed to slow fading of carpets & furniture and can lighten air conditioner loads during the warmer months.
We also use Heavy Duty Welded Vinyl. More vinyl means more strength, which means less air leakage. Our welded frames and sashes never come apart to leak air or water. Additionally, we manufacture your windows with a Triple Weatherstrip on the sash to reduce air infiltration and keep the cold out longer.
Contact Interstate Glass today to find out more about Polar Seal Windows.